If you've read this blog for a while you probably know I have a slightly sacrilegious attitude to many of the classics which form the literary canon, but despite this I love Wuthering Heights,  Jane Eyre and all things Brontë. The sister's lives could have been a novel in their own right, I'm pretty there isn't a massive motion picture being promoted at the moment, given the success of biopics about Keats, Austen and Potter in recent years. Either way, their books are amazing, a blend of the Gothic and Romantic traditions which are perfect for reading on cold winter nights.
Consequently, I have decided that Brontë inspired items would make great Christmas presents for the Romantic (with a capital R of course…) in your life. Here's a list of my favourites.
I love this necklace for the free thinking woman in your life. As my boss reminded me, much to my amusement, when we were selecting book covers in work the other day; bird cages are very on trend. This trinket adds weight to the motif with a well-chosen quotation on the presentation card, "I am no bird; and no net ensnares me: I am a free human being with an independent will."
If it was the Romance with a capital 'R' that brought you here, then I think that these earrings which quote Cathy's outburst about Heathcliff being "More myself than I am. Whatever our souls are made of, his and mine are the same" has to get a mention. Almost certainly one of the best declarations of love in literature, and one of the ones with the most heartbreaking outcomes for the couples involved.
If you're looking for a present for an aspiring writer, they may take inspiration from this mini journal which is embossed with Charlotte Brontë's writing from the manuscript of Jane Eyre. It's a bargain at £6.99 and would make a lovely diary.
I mentioned some time ago that I didn't want so much as need this amazing paper cut style poster which is being sold to raise money for a charity which aims to fight illiteracy. So for about £40 you effectively have a gift that gives twice, a beautiful picture for the recipient and a better life for someone who learns to read.
It may be because I'm decorating my house at the moment, but I'm a big fan of this Wuthering Heights decal which contains part of one of my favourite passages in literature. I think it's great inspiration for a gift for a book worms, you could order a custom decal with a favourite passage from any book, or even a song lyric. I would put this up in a shot if my boyfriend would let me. Compromise leads to a very bland aesthetic.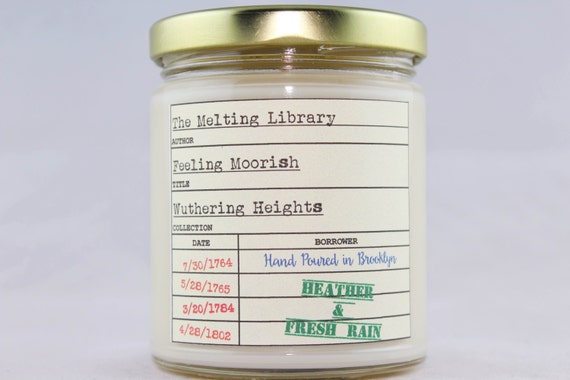 The Melting Library sells beautifully scented soy candles and has a great range based on a wide variety of books. I want so many of them. If you want to experience being out on the winding, windy moor more fully while reading in the comfort of your own home (or bath) then this Wuthering Heights inspired Wild Heather Emily Brontë candle is just the ticket. Just be careful you don't stir up any ghosts by leaving it alight in your window…
Anne Brontë always seems to me to be the overlooked sister, but I love this greeting card with a quotation from The Tenant of Wildfell Hall. Obviously it would work well as a card in it's own right, but pop it in a frame and it would make a lovely artwork for a gallery wall such as the one I've been creating in my dining room…